Your guide to the latest Cookies retail destination - NYC
There's no place on earth like New York City and the city that never sleeps has been rocking with Cookies since day one. And now, after years of brotherly love between the Bay and the Big Apple, we're finally putting down roots in New York City.
The Cookies flagship clothing store opens its doors on Sunday, October 30th in Herald Square at 34th street in the heart of Manhattan and we're beyond hyped to push the culture in the five boroughs.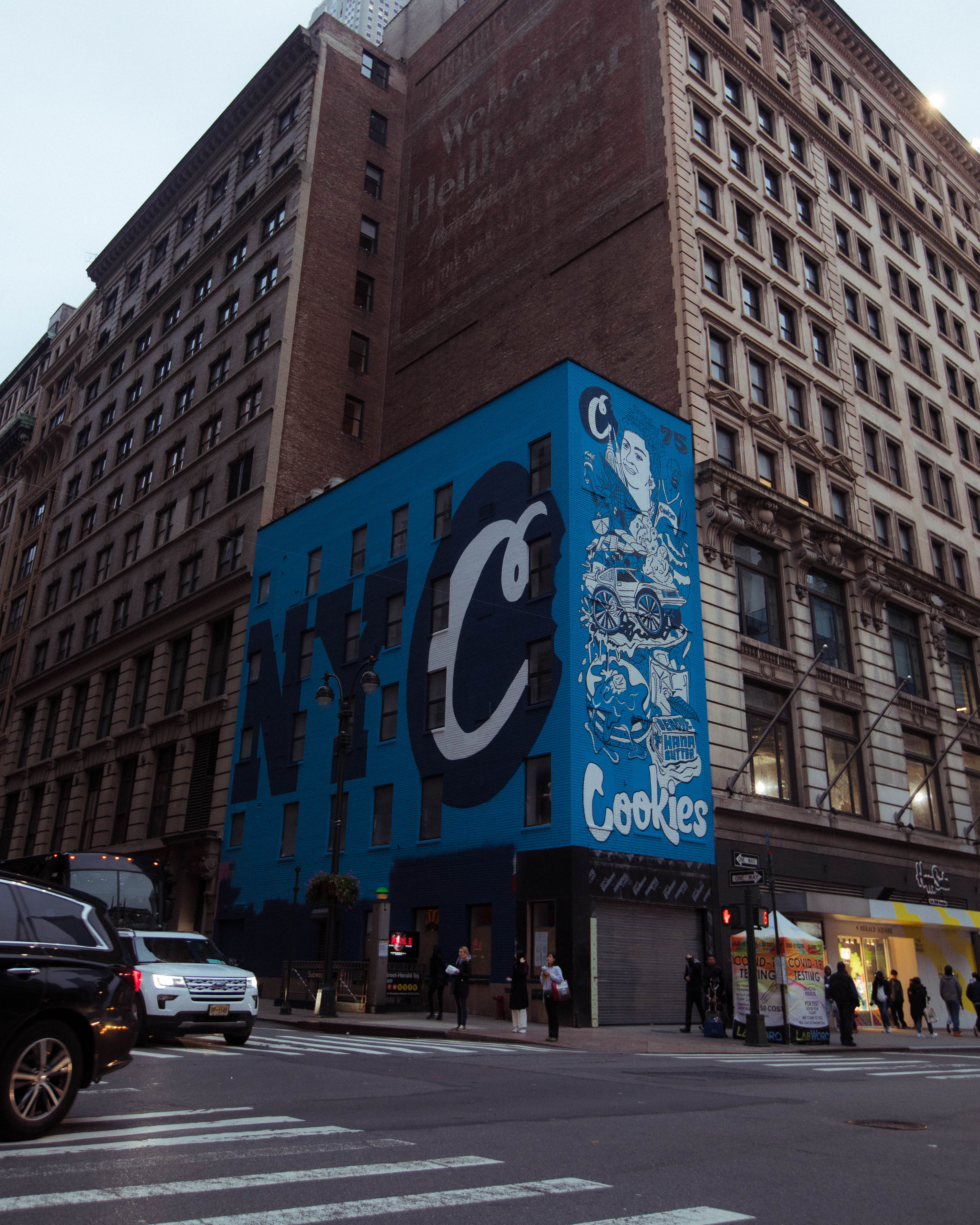 Berner on IG: Dream BIG ! @cookiessf NYC 10/30!
We've been taking trips to NYC for years, so we know a thing or two about living the high life in the city. Check out our tips for keeping your trip to New York lit and suggestions for our favorite spots to eat, drink, shop, and kick it.
New York City Weed Laws
In March 2021, New York became the 15th state to legalize recreational cannabis consumption. And while state regulators are still working on retail dispensary licenses (don't worry, we're already working on it), the Empire State has quickly become one of the most open and welcoming destinations for cannabis consumers.
The best part of New York's legalization law? You can freely consume cannabis in public anywhere that smoking tobacco is legal. That means that tourists and locals alike can step onto any sidewalk in the city and spark up without worrying about cops, landlords, or security guards.
With that kind of access to the plant, any and all activities can quickly become stoner-friendly. Here are a few of our favorite ways to experience the city.
WHERE TO EAT & DRINK
If you're looking for an authentic New York pizza, look no further than Brooklyn's favorite chosen son - Lucali. As fresh and flavorful as pizza gets, Lucali focuses on dough, sauce, cheese, and perfect basil, with just a few select topping additions for a perfectly crafted pie.
This isn't your average slice shop though, and Lucali's delicious dough is in high demand, so show up early and brave the line to get your name on the list and snag a table.
More pizza? Yeah, more pizza. If we're talking NYC food, we can't leave out Luigi's in Brooklyn. A family-owned spot for the perfect slice on the go or a specialty Sicilian pie, Luigi's is a must when you're in BK.
Downtown Manhattan has been the center of the restaurant world for decades, and the busy neighborhood is still your hub for grubbing down. Tucked into a small storefront in the lower east side, Fat Choy is a unique staple serving cheap plates of out-of-this-world Chinese food perfect for a post-session feast. Did we mention it's all vegan? Yeah, health is wealth over here.
A Soho staple since the 1800s, Fanelli Cafe is the place you want to be for a burger and a beer or their full menu of comfort staples perfect for any bout of the munchies. Plus, if you're sitting outside, sparking a joint mid-meal won't cause the veteran service staff to bat an eye - there's no better appetizer than a few more puffs.
EXPERIENCE NYC
Madison Square Garden
What kind of welcome to NYC would it be if we didn't big up our neighbors? Whether you're in town for a huge headliner tour or catching a Sunday afternoon Knicks game, MSG is called "the world's most famous arena" for good reason, and the history flowing through those halls is legendary.
We can't promise that you'll get in, or that you'll ever even find the building, but if you do, you'll never forget it. The highest club in high society, Astor Club is a social club, community, and clubhouse for all things exotic, where the culture's heavy hitters come to get lit in NYC.
Take a Walk
If you want to experience NYC like a local, roll up your favorite strains, put on your freshest 'fit, and hit the block. It doesn't matter what borough you're staying in, pounding the pavement is the best way to find spots for shopping, hole-in-the-wall restaurants, and the oddities that make New York New York. And with weed now legal to consume anywhere you go, New York's unbeatable walks just got a lot chiller.
Cookies NYC opens in Herald Square on Sunday, October 30th, see you there!