To honor Latin Heritage Month, Cookies Social Impact is proud to partner with the National Hispanic Cannabis Council (NHCC) to launch "Latino-owned shelves" at Cookies stores across California.
This community partnership will showcase the vibrant diversity of the cannabis industry by featuring a curated selection of Latino-owned cannabis brands on the shelves of Cookies stores throughout the state.
Hispanic Heritage Month, observed from September 15th to October 15th, is a time to honor the rich cultural contributions of the Hispanic and Latino communities. The Cookies "Latino-owned shelves" can be found at these participating retailers - Cookies Brentwood, Oakland, Hayward, Modesto, Napa, San Bernardino, La Mesa, Berner's Merced, and Lemonnade Union City.
Learn more about the featured brands and community members who embody the spirit of innovation and excellence within the industry.
Casa Flor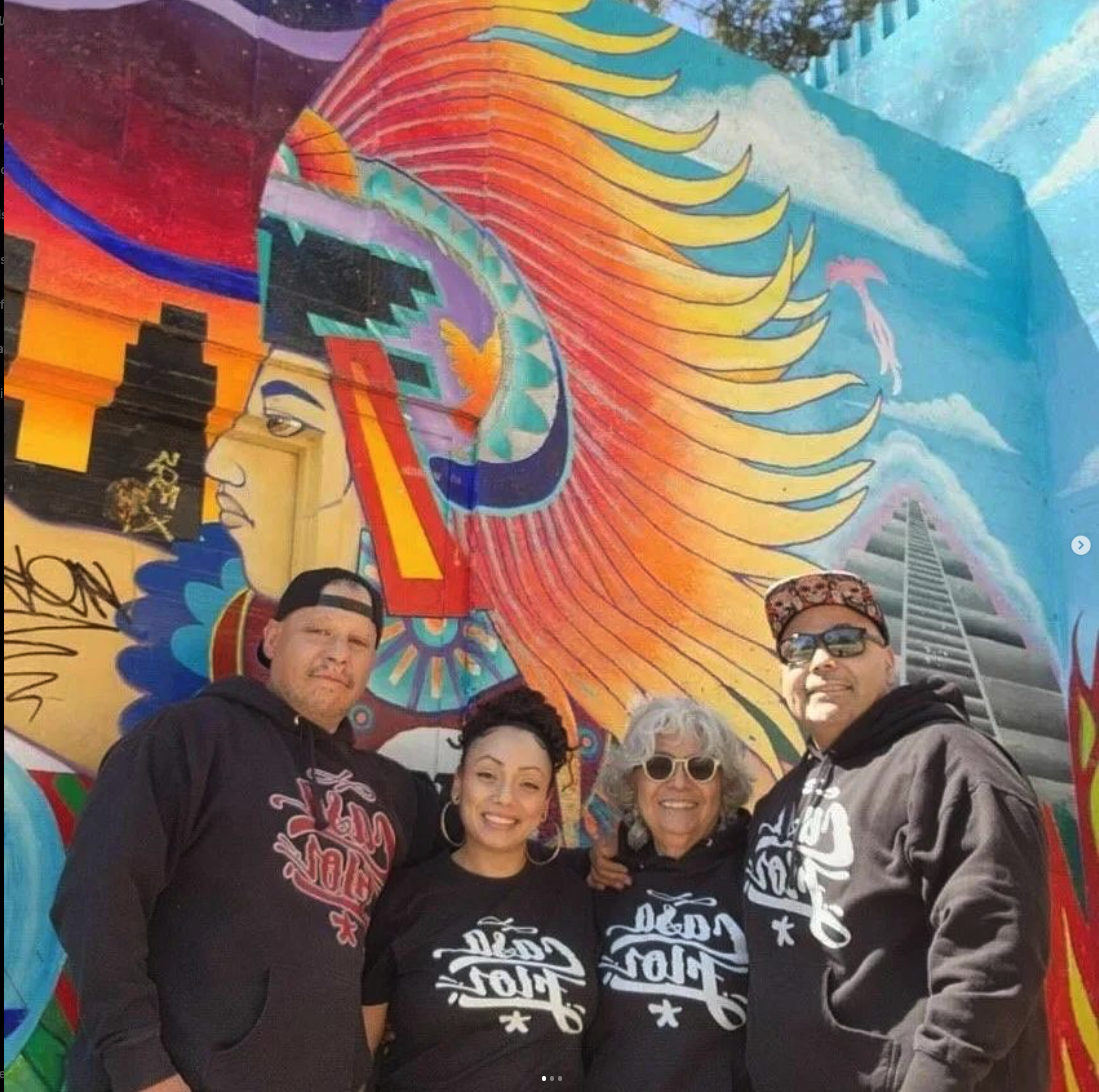 Family-owned and operated, Casa Flor brings a legacy of traditional indigenous healing from Mexico to the forefront of California's new marijuana farming industry with over 100 years of farming experience. Their farming practices have been cultivated in California by generations of families who lived off the land and knew the value of hard work, honesty, commitment, community health, and the love of nature. Casa Flor are the new generation of Mexican/Chicano farmers building on a base of ancestral knowledge, teamed with award winning genetic development and collaboration with a range of amazing licensed and like-minded partners in the cannabis industry.
Website:Casaflorfamily.com Instagram:@casaflorfamily
Dope Flavors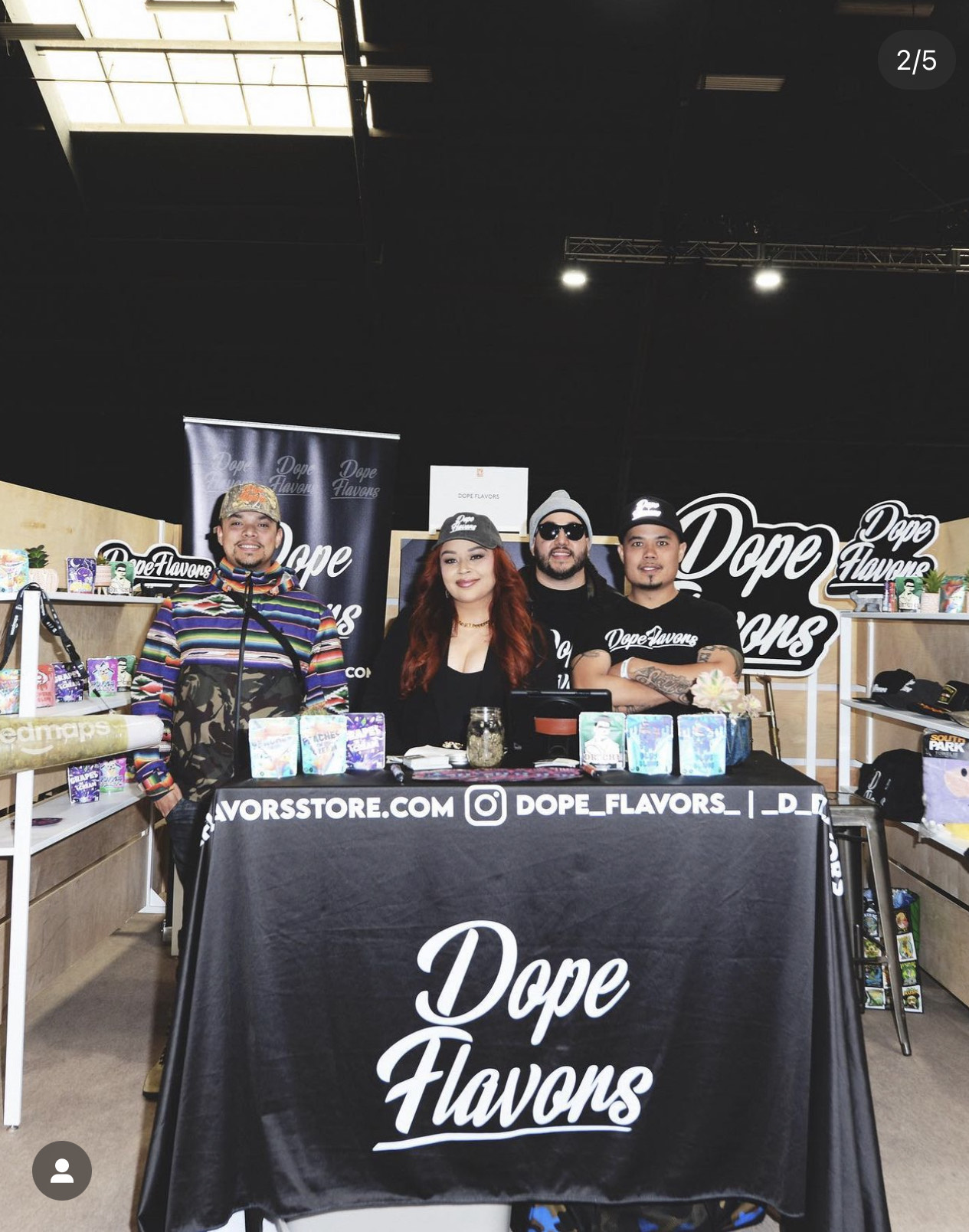 Dope Flavors is a California cannabis social equity company positively contributing to the cannabis culture and community, through advocacy, collaboration, and quality productions. They have won multiple awards across California, including the Hall of Flowers Social Equity award in 2023. Dope Flavors is rooted in legacy as well as operated and designed by the justice impacted, and their values reflect a dedication to quality and equity within our industry.
Website: Dopeflavorsstore.com Instagram: @_d_flavors
Humo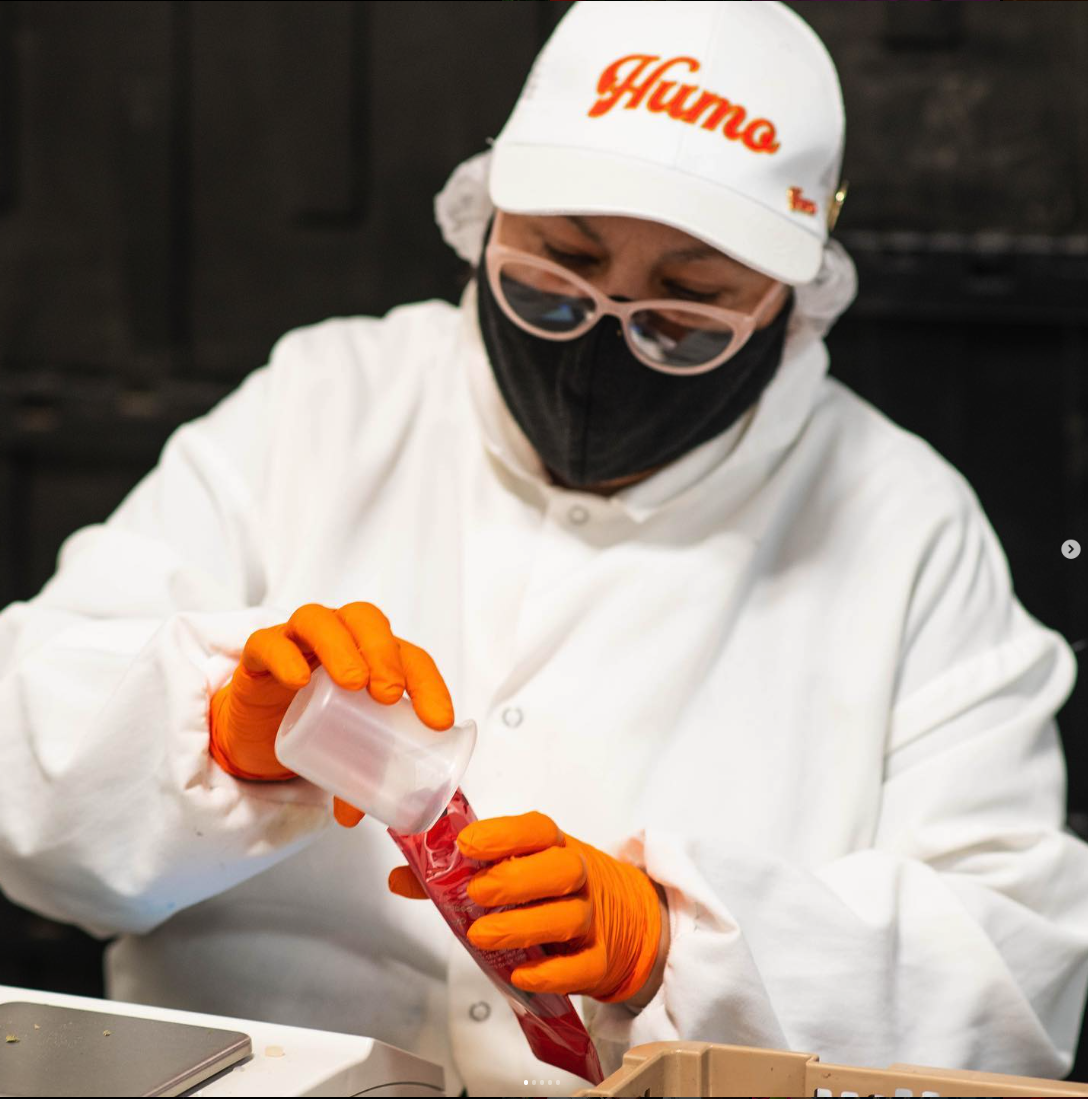 Humo hails from Salinas, CA and is on a mission to eliminate the stigma surrounding cannabis in the Latino community by celebrating our rich cultural history with the plant. Their craft cannabis is sustainably grown in a Smart Greenhouse with proprietary greenhouse technology that features best-in-class climate control, requires less water per pound of flower, and is far more efficient than indoor grows.
Website: Gethumo.com Instagram: @get.humo
La Familia / Product of Los Angeles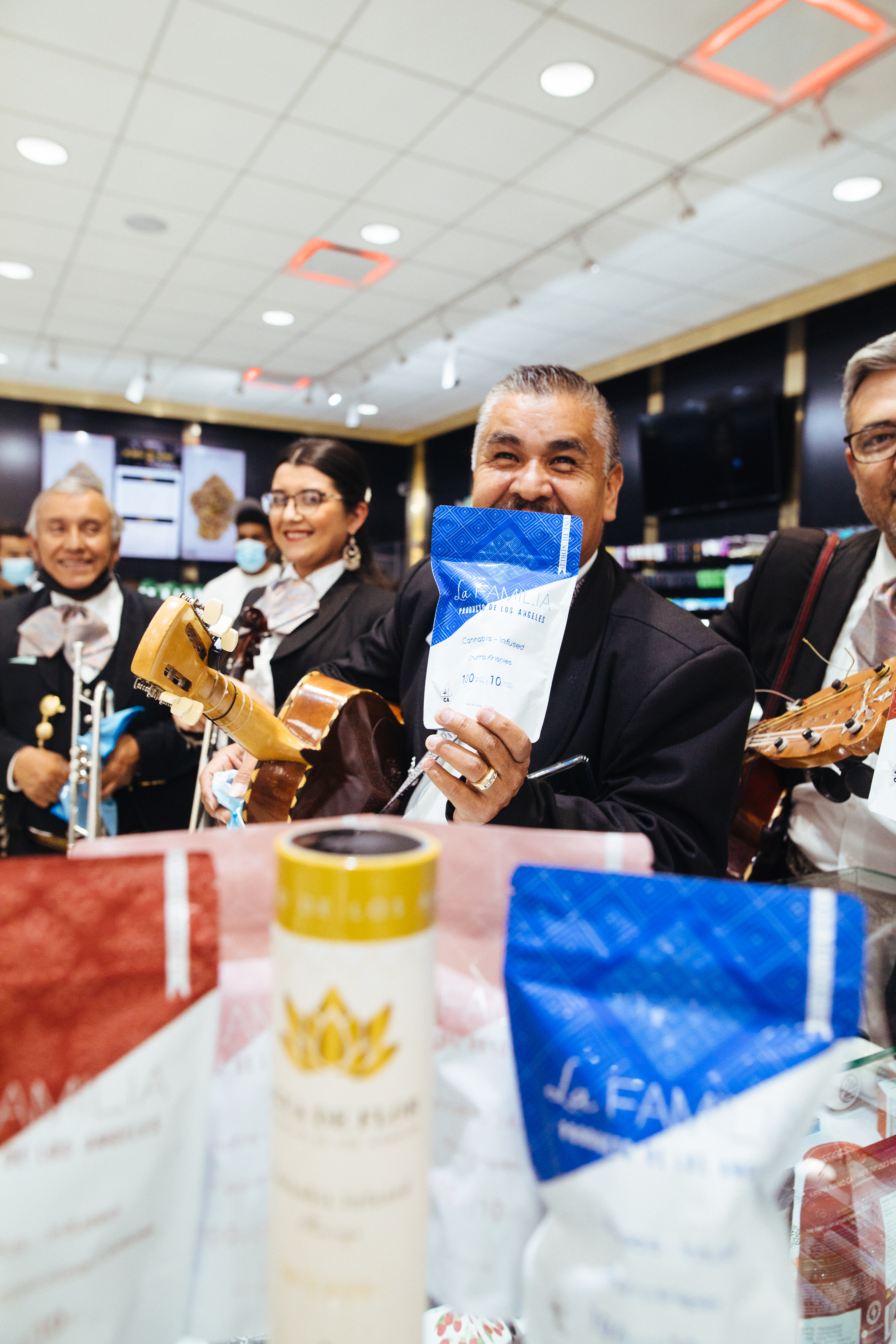 Product of Los Angeles isn't just any cannabis brand, mi gente. It's a fusion of mouthwatering Latino flavors and a brand built by Latino LA-natives and army veterans. POLA is a brand that gives la raza a megaphone and a sacred spot on those shelves, exclusively for them. They produce a range of products including La Familia chocolates and Agua de Flor cannabis-infused drinks.
Website: Oflosangeles.com Instagram: @lafamiliachocolate @oflosangelesco
Luchador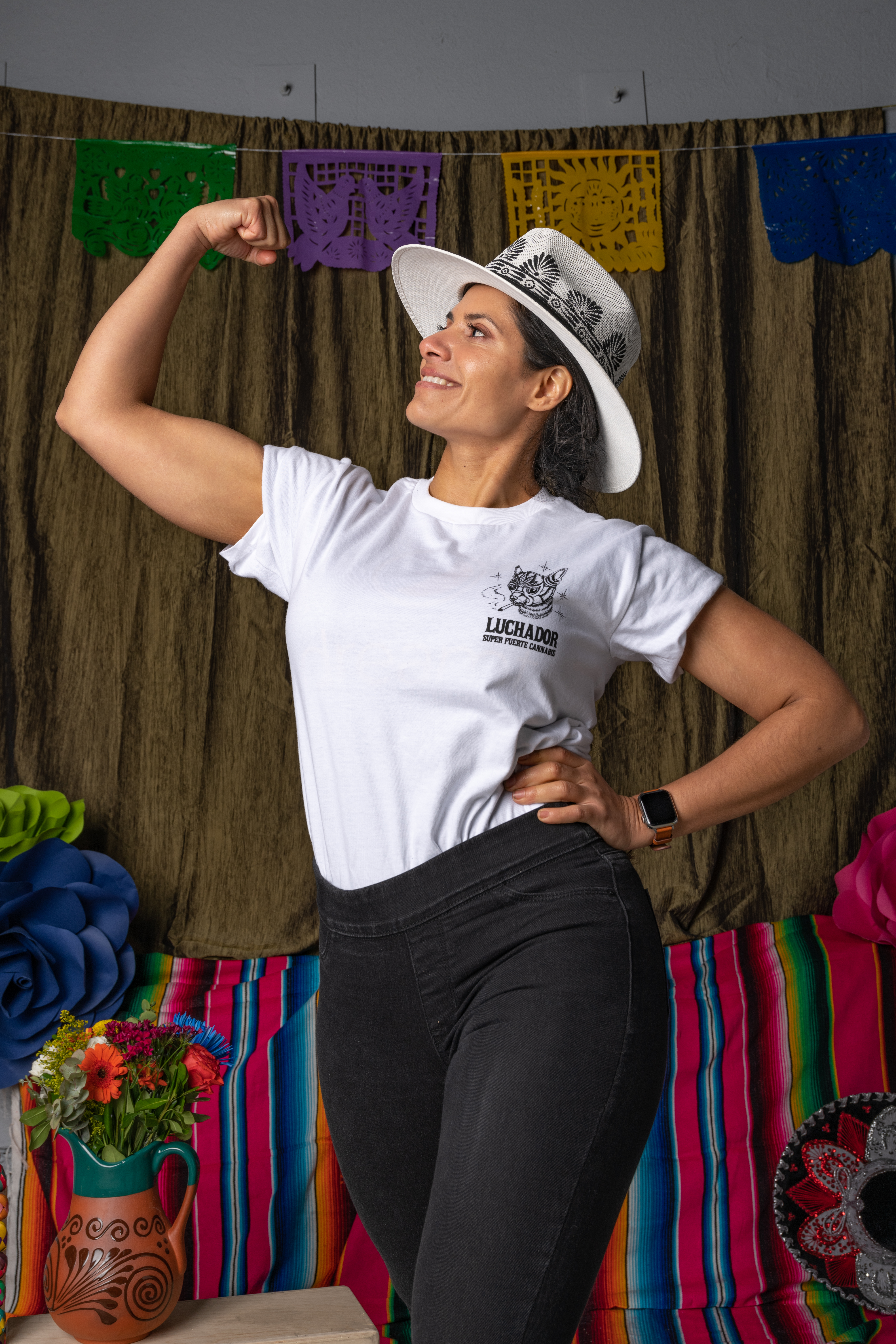 LUCHADOR is the super fuerte cannabis brand that helps you fight whatever the day brings. Unapologetically fun and with fuego flavors, LUCHADOR is the heavyweight champion of cannabiS - available as 100mg gummies and 1000mg THC tinctures. LUCHADOR was created by Carolina Vazquez Mitchell, aka LA CIENTIFICA, founder and Chief Scientific Officer of Ciencia Labs. Originally from Guadalajara, Carolina has created more than 60 cannabis products, including dreamt, the award-winning cannabis for sleep. She has been a featured expert in Rolling Stone and is the Science Editor for mg magazine.
Website: Getluchador.com Instagram: @getluchador
Sanctuary Farms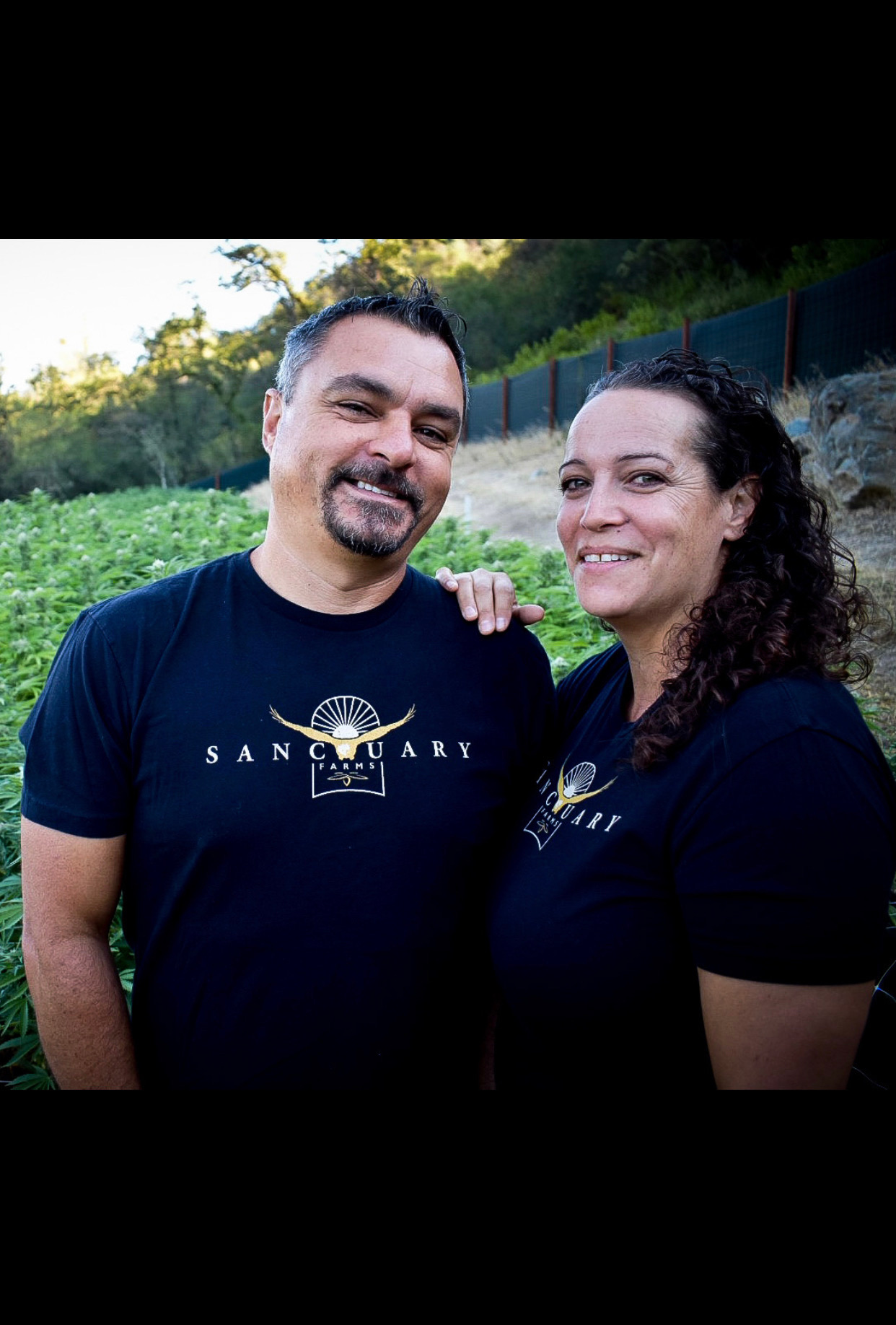 Sanctuary Farms is a family-run operation that emphasizes all natural and organic farming practices to produce the finest variety of cannabis flower with distinct profiles and net positive environmental impacts. Sanctuary Farms operates two outdoor cultivation sites plus a nursery site in Nevada county, as well as a mixed light cultivation site in Mendocino county. Holders of their own nursery license, Sanctuary Farms is able to select the specific strains grown on their cultivation sites and continue to develop genetics to provide new and exciting options for the future. Website: Sanctuaryfarmsca.com Instagram: @sanctuaryfarmsca
SeventhWave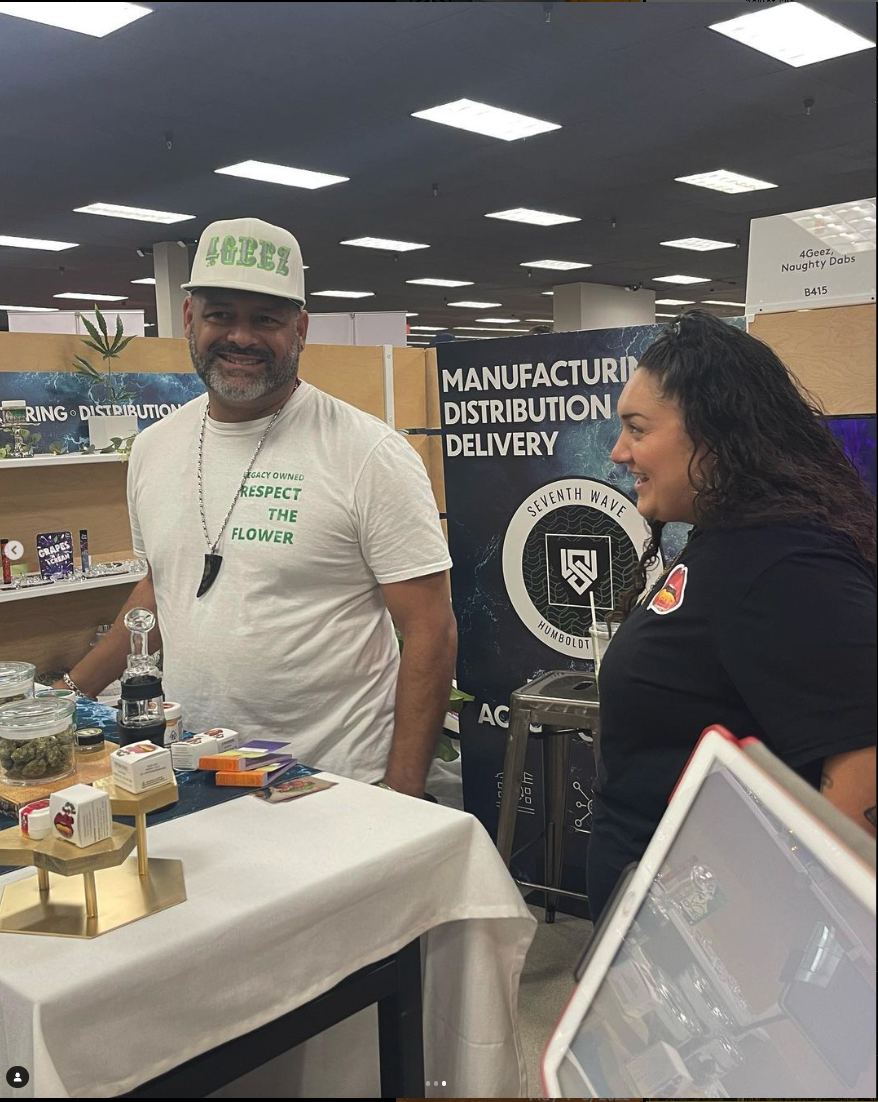 Seventh Wave is a 100% Latino/a family owned and licensed social equity company based in Humboldt County. 7th wave is a manufacturing and distribution company so aside from producing their own brands (4Geez), they also partner directly with other in-house brands including Dope Flavors, Humboldt Marijuana Co, Steep HIll Mendo and Saffy THC.
Instagram: @7thwaveca
SyncSF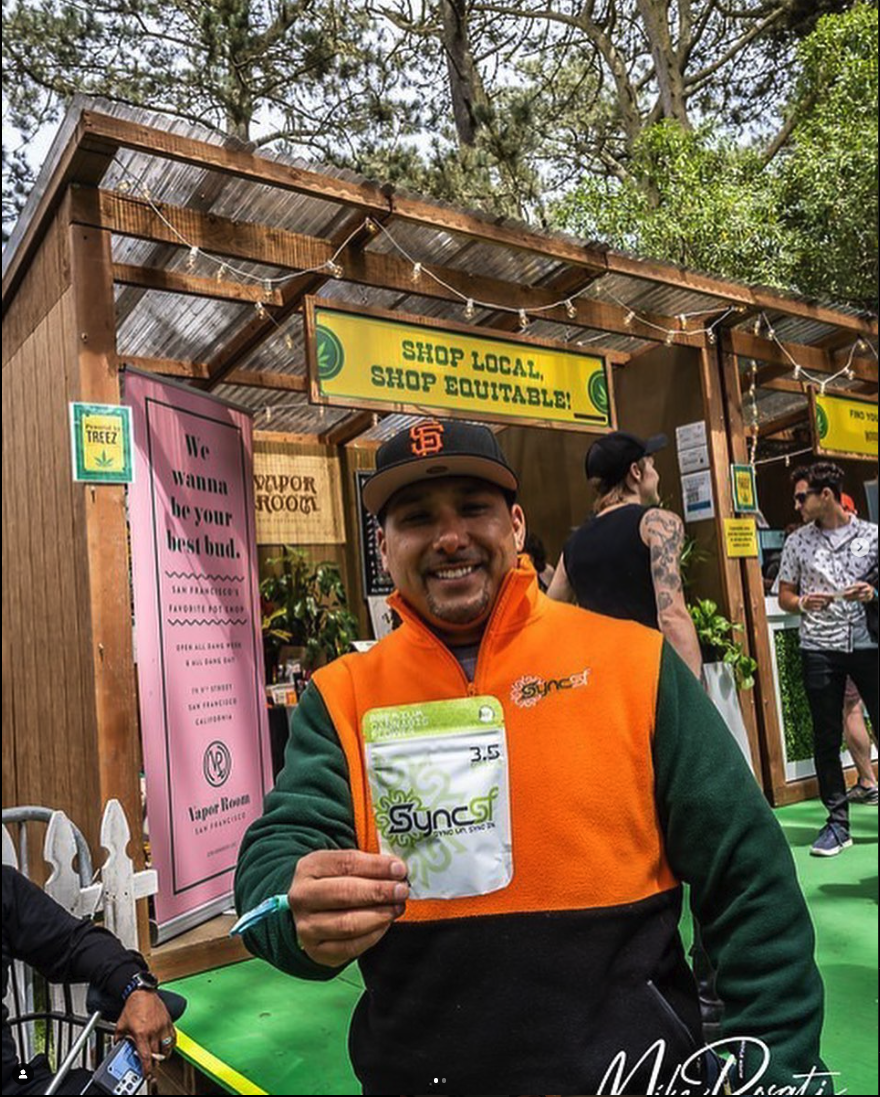 SyncSF is a San Francisco-based social equity cannabis brand making premium, small-batch cannabis flower accessible to all. Founded by a 4th generation Mexican and Mission District native, SyncSF was created as an inclusive business advocating for the local community and its growing need for therapeutic plant medicine. SyncSF's offerings run the gamut of affordable indoor flower grown in the Bay Area, including classic strains like Super Lemon Haze and Grand Daddy Purple, and newer strains such as Gelato or Slurry.
Website: Getinsyncsf.com Instagram: @sync_sf
Bianca Gutierrez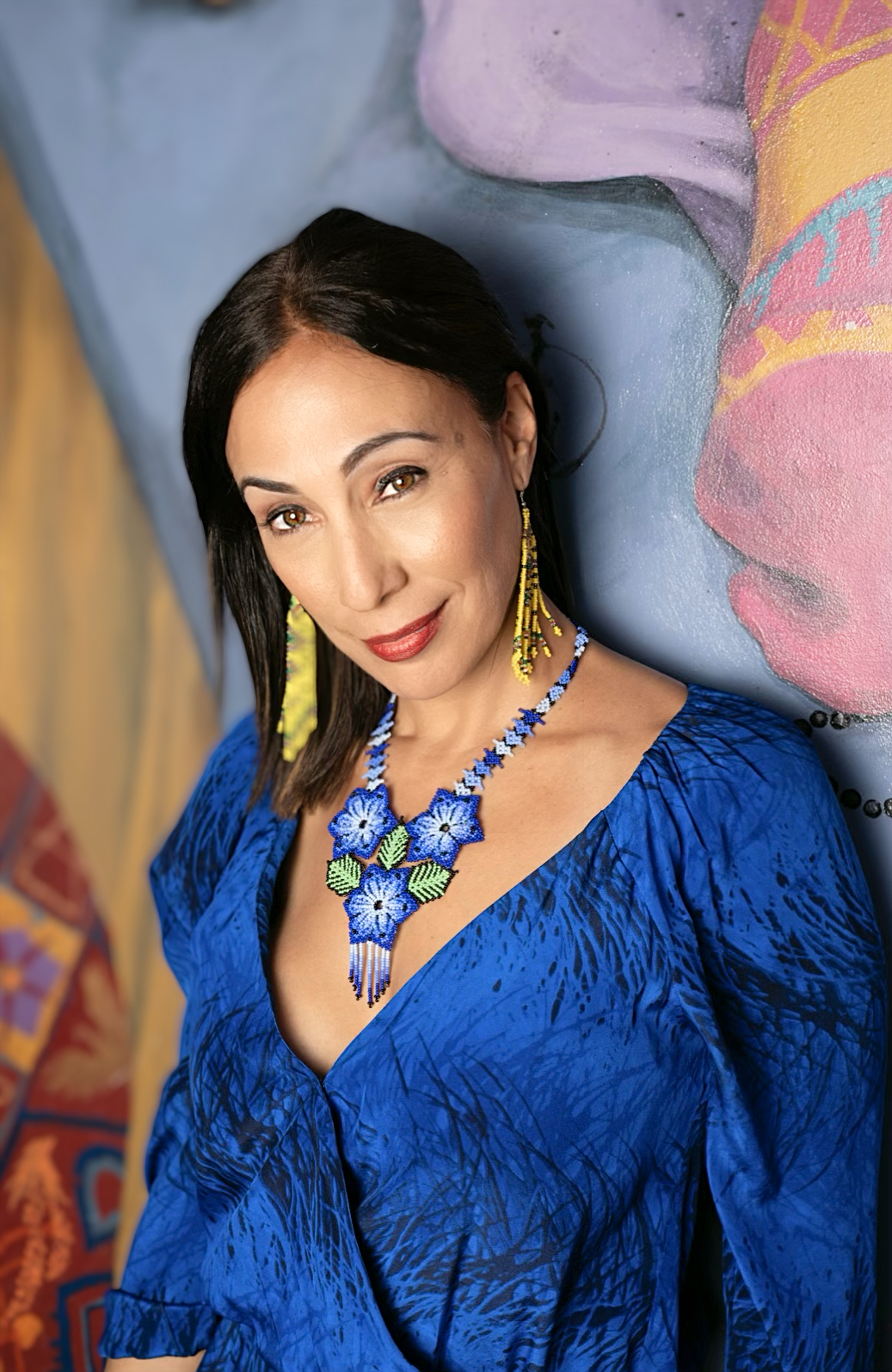 Bianca Gutierrez is a mother, an entrepreneur, cannabis enthusiast and founder of a marketing agency with an emphasis on cannabis, community and culture focused projects. She is also in the process of opening a Powerzzzup dispensary in San Francisco's Mission District representing Latinas from everywhere alongside an amazing team. Bianca leverages her experience hosting cultural events for decades to offer brands a way to connect with consumers in creative ways - utilizing art, music, fashion and community driven events to build their brand.
Bianca has worked with brands like Cookies and helped launch brands with Erykah Badu, Black C and United Playaz.
Instagram:@bstarragency @724valenciastreet
Wendy Tapia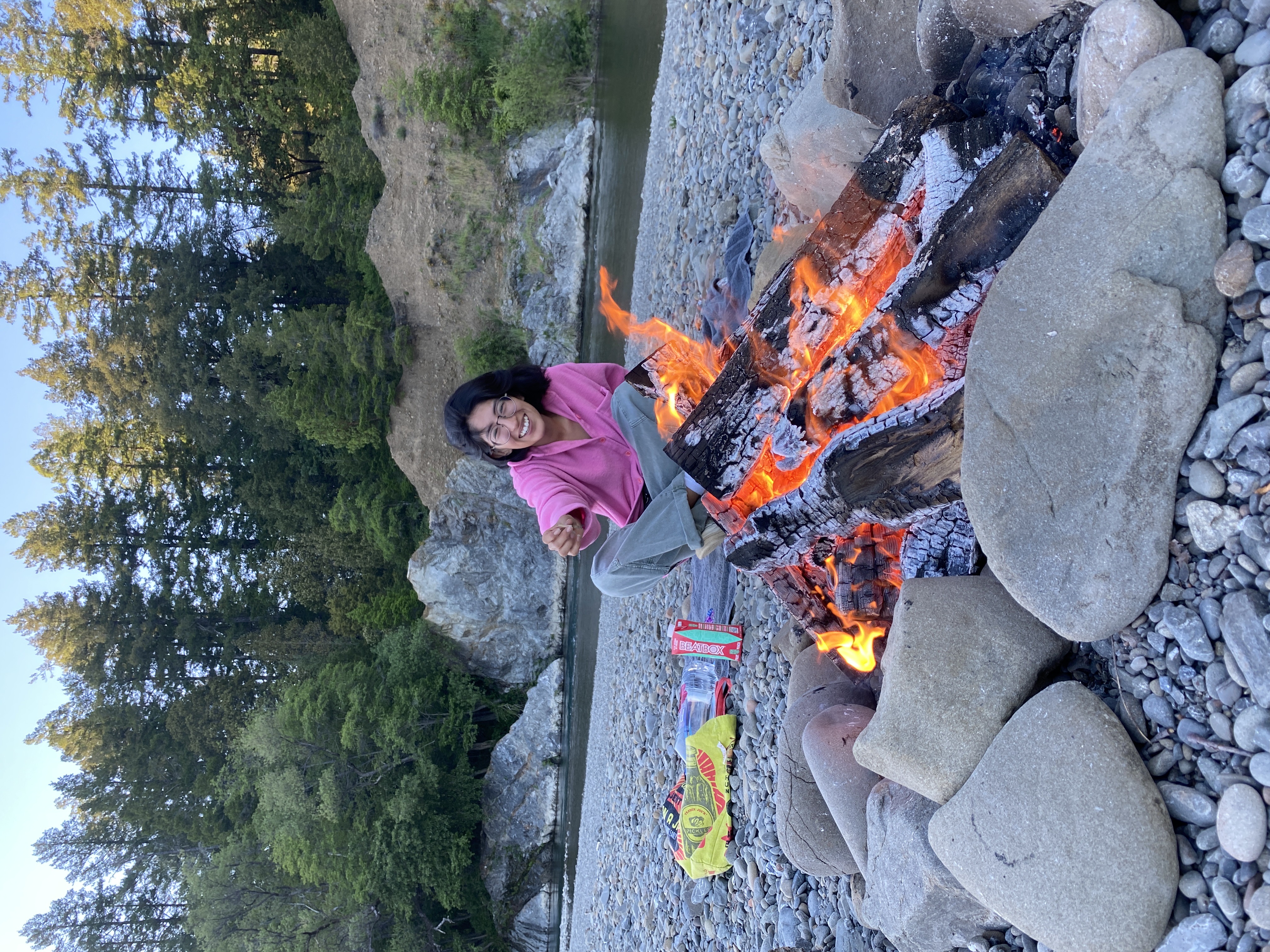 Wendy Tapia is a first-generation Mexican-American making a name for herself within the cannabis industry. Her journey with cannabis began when she was diagnosed with Bell's Palsy. Despite there being no cure for this condition, she found research on a correlation between cannabis usage and weakening Bell Palsy symptoms. Within a month of continuous use, she found that all of her symptoms were gone.
During college, Wendy started the first-ever cannabis advocacy club at UC San Diego to teach her peers about cannabis science and advocacy. Now as a recent graduate from UC San Diego and Cookies U Program, Wendy's goal is to change the stigma surrounding cannabis and make it more accessible for Latino/as to enter the cannabis industry.
Instagram: @mystonedview
Leila Soveron Ovando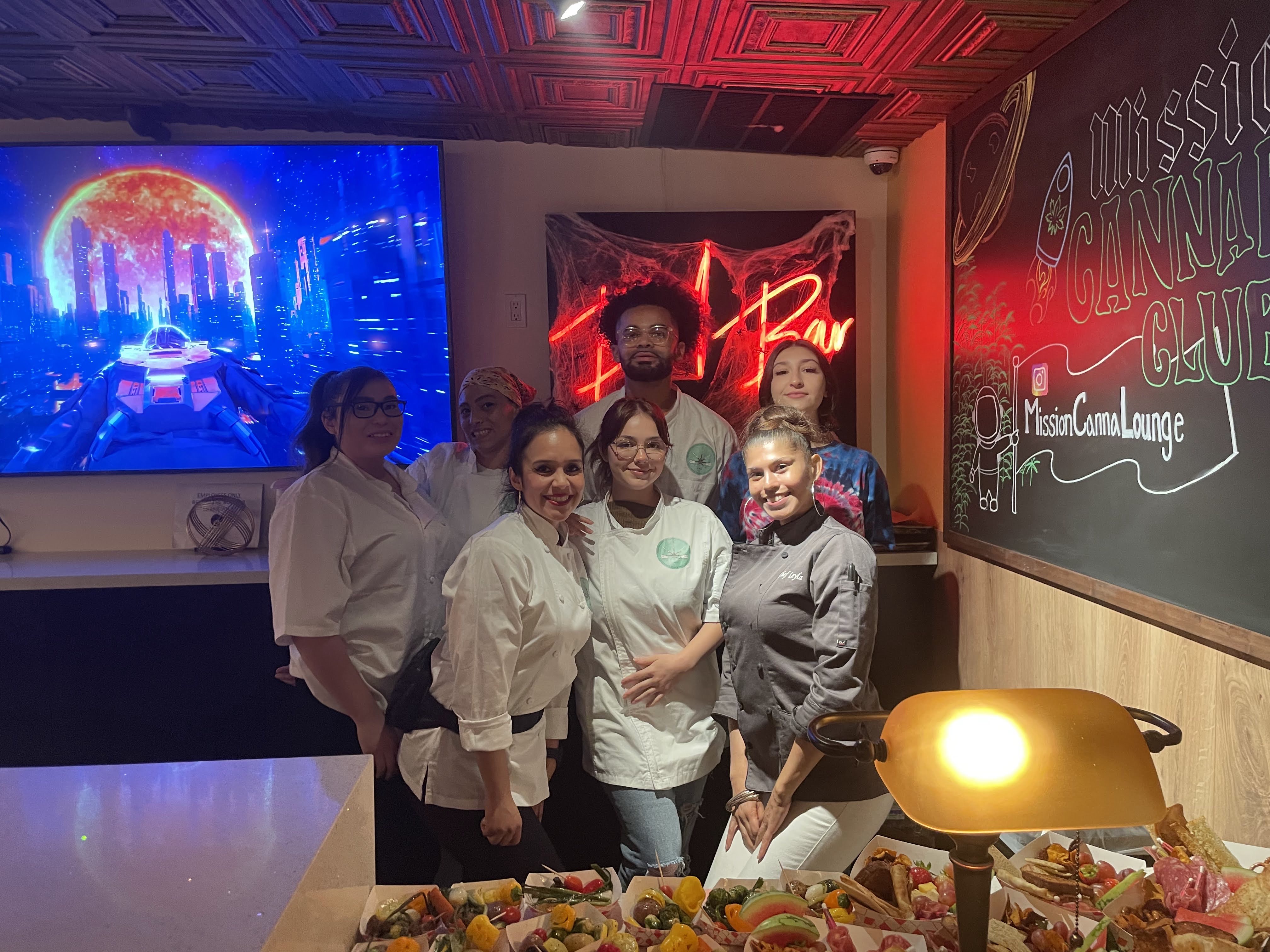 Leila Soveron Ovando is a cannabis culinary chef with over 20 years of experience. Leila is the proud mother of three and a first-generation Mexican and Salvadoran born and raised in San Francisco's vibrant Mission District .
Leila's passion for cooking and cannabis led her to create a unique Cannabis Culinary Infusion program at MLVS, which was funded by the Office of Workforce Development of the city of San Francisco - a testament to her ability to turn life's challenges into growth and innovation in the culinary and cannabis world.
Leila is committed to eradicating the stigma surrounding cannabis and giving her community the education and access they need to be a part of the budding cannabis industry.
Instagram:@la.leyla @mlvs_programs
Danielle Ceruti Espinel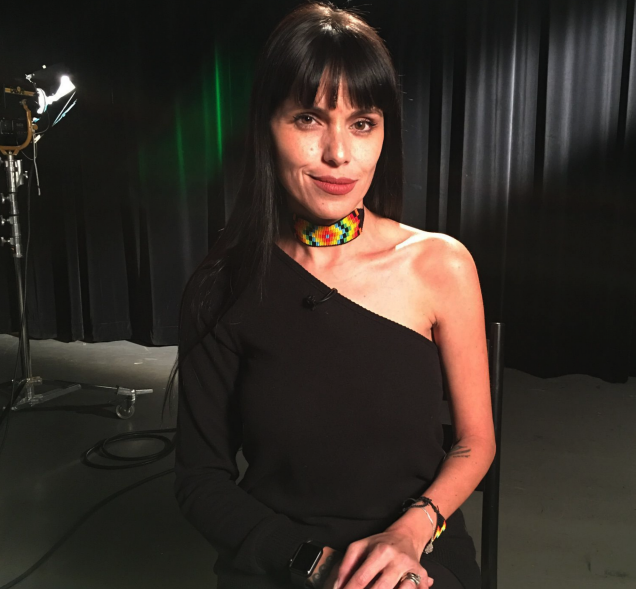 Danielle es una profesional multicultural dedicada al bienestar de la sociedad y de origen Venezolano. En 2013, decidió reubicarse en Colorado, donde incursionó en la industria del cannabis. Después de un año trabajando en esta industria decidió fundar Cannalatino, el primer canal de educación para informar y educar a la población latina acerca de los beneficios y regulaciones del Cannabis medicinal en USA, para intentar eliminar el tabú que esta cultura asocia con la planta del cannabis.
Danielle ha colaborado con varios medios de comunicación como CNN, NBC, Univision, ABC, entre otros. Muchas de estas piezas informativas han recibido importantes premios, como el Emmy, gracias a su asesoría cannábica en el reportaje "Marihuana Deportable" hecho con Telemundo en el 2017.
Website: Cannalatino.net Instagram: @daniellecerutiespinel @cannalatino